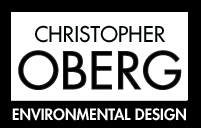 Christopher has always appreciated art and sculpture. After graduating from SUNY Cobleskill, he went to The Rochester Institute of Technology to study Industrial Design where he learned about materials and their processes. He is inspired by Contemporary designers including Frank Lloyd Wright, Phillip Stark and his favorite, Santiago Clavatra. This furniture was inspired by some blow-molded chairs he saw in a Philip Stark catalogue.
"I had this metal lying around that I used to fix mower trailers and I thought it would be good to use for this concept of furniture design. Form follows function. Durable, porous, strong and flexible. I like to build stuff that lasts. Bombproof. Everything I buy I always end up modifying and making stronger."
I also do metal kinetic sculpture. I like my pieces to move with the trees, and grasses in the wind and morph into the landscape and become a part of it.
Visit the website for more information on the furniture.